Our Story
The Meeting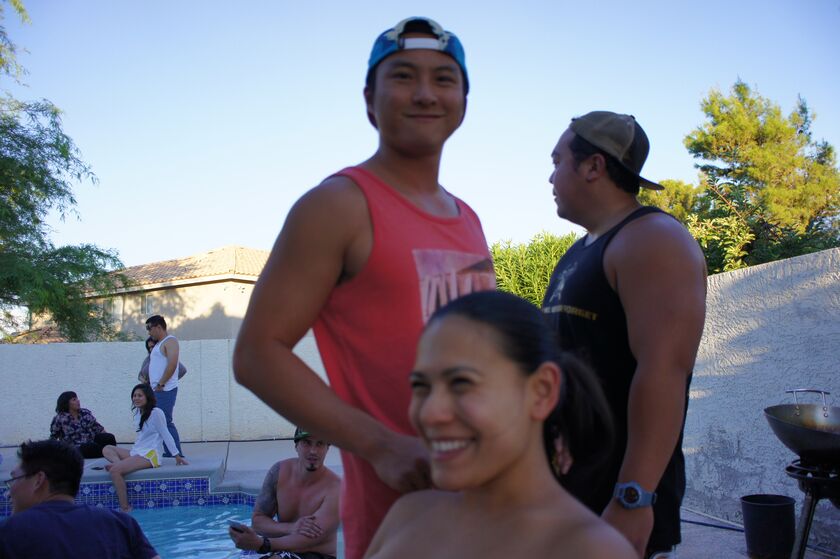 Ho Brah you like go this raging party with all kind girls and drinks like dat?
Sure what for?
My baby gender reveal party
Oh… I guess…
Never in my wildest dreams did I think this would be the party that would change my life. Thanks baby Isla I owe you one.
Jello shots, crown, beers, and beer pong, just another party. The boys on the wok tossing some fried saimin. Aunty and grams in the garage frying up some Korean garlic chicken, OK maybe this was actually going to be a really good party.
The sun is out and high in the sky over the pool, the hawaiian music is bumping on the Bose speaker that is constantly being interrupted by phone calls and text messages. This is the big day, when we finally find out if Rolan and Jan are having a boy or a girl. All the usual suspects are there: the boys jumping off gram's wall into the pool, friends and family from Hawaii, California,and even Texas made the journey to be here. Then there was a new girl in the yellow shorts. They had told me she was coming. She was Jan's coworker at Walgreens, a cute pharmacist that had just come back from Oklahoma for the summer. Rolan thought she would be a perfect match for me; energetic and smart with a witty sense of humor. If there was anything that I had learned throughout the years is that the quickest way to a woman's heart is through her stomach. (Which I lucked out with Julia greatly) Too bad I had brought the second best dish which was home made Washington apple jello shots. After some persistent nagging I finally got Julia and Heather to take one of my shots and that got the party rolling.
"I cant even see and I'm still beating you"
Was probably the least flattering thing I said all night, but hey Ed and I were demolishing people in beer pong that night. After a few Jello shots went down I had finally convinced Julia to come out of her shell and play a game of beer pong. At this point my partner had stopped drinking (wait did he even start), and I had broken my glasses but we were still 5-0 against the field. Julia not wanting to play for shots or drinks agreed upon "loser gets thrown in the pool" as punishment.
To say the least it did not go well for Julia and heather. As I was tossing Julia into pool, everyone at the party stopped and stared. Not because it was cute, but just angrily that I had not even let her undress first. I didn't care I had finally got what I was after: some alone time to get to know this mystery girl.
Unfortunately the rest of the night was a complete disaster for me. Upon finding out that she is somewhat of an adrenaline junkie, we make the decision to try jumping off the wall like the boys were doing earlier. This is my chance I thought I can be one of the cool kids. I then proceeded to dislocate my shoulder, put my foot through a lawn chair and started bleeding everywhere. Seeing all this julia tries to botch me back together then decides that it is time to go home. As I limp after her, the only thing I can hope is that I didn't just totally blow it. I guess it worked out. Somehow even though I was blind, one armed, and one legged, I was still able to get her number and had amazing adventures ahead of us. We ran, we laughed, and we ate, oh did we eat and it seemed that everything we did was just meant to be. She was my large warm sun filling my every day with smiles and joy.
The First Date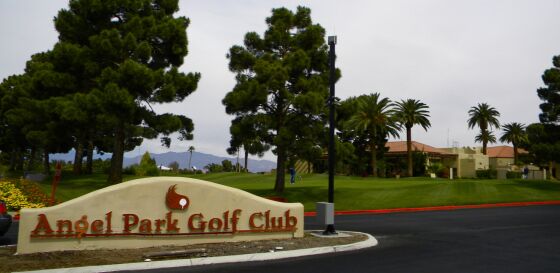 "Are you busy on Wednesday? Maybe I can meet you after work, grab some food then do something afterwards?
Sounds good
One thing though, I got a homework assignment for you.
Huh homework? Are you serious, what kind…
Describe your idea of a perfect date. You don't have to answer now just have it ready when I pick you up on Wednesday.
Her answer she came up with: A horror movie.
Her grade: F-


Really that's all your ideal date is, just that? Um ok, actually not ok, we're doing something else. Unfortunately for me I am not a fan of horror films. As it seems to go with all my well laid plans, this one seemed to be falling apart. Not only did she not seem at all interested in Hawaiian Korean food from Island Style, now we had nothing to do. It had been about a week from the first time we had met and I had hoped to do something fun and exciting. I end up going with my plan B (well truth be told it was my plan A from the start shhhh) and head to Angel Park golf course for some putt putt mini golf. My plan was to try and get close to Julia by teaching her the intricacies of the putting stroke. She instead ran away from me anytime I tried to help, chased after cotton tails, and pointed out the ducks and the beautiful sunset. We ended up having a great time putt putting, laughing, and running around in the grass. We had hit it off so wonderfully it was a relief that it was not a one time thing. I reached in to grab her hand to lead her off the course and I was promptly denied.
My grade: Pass
The Proposal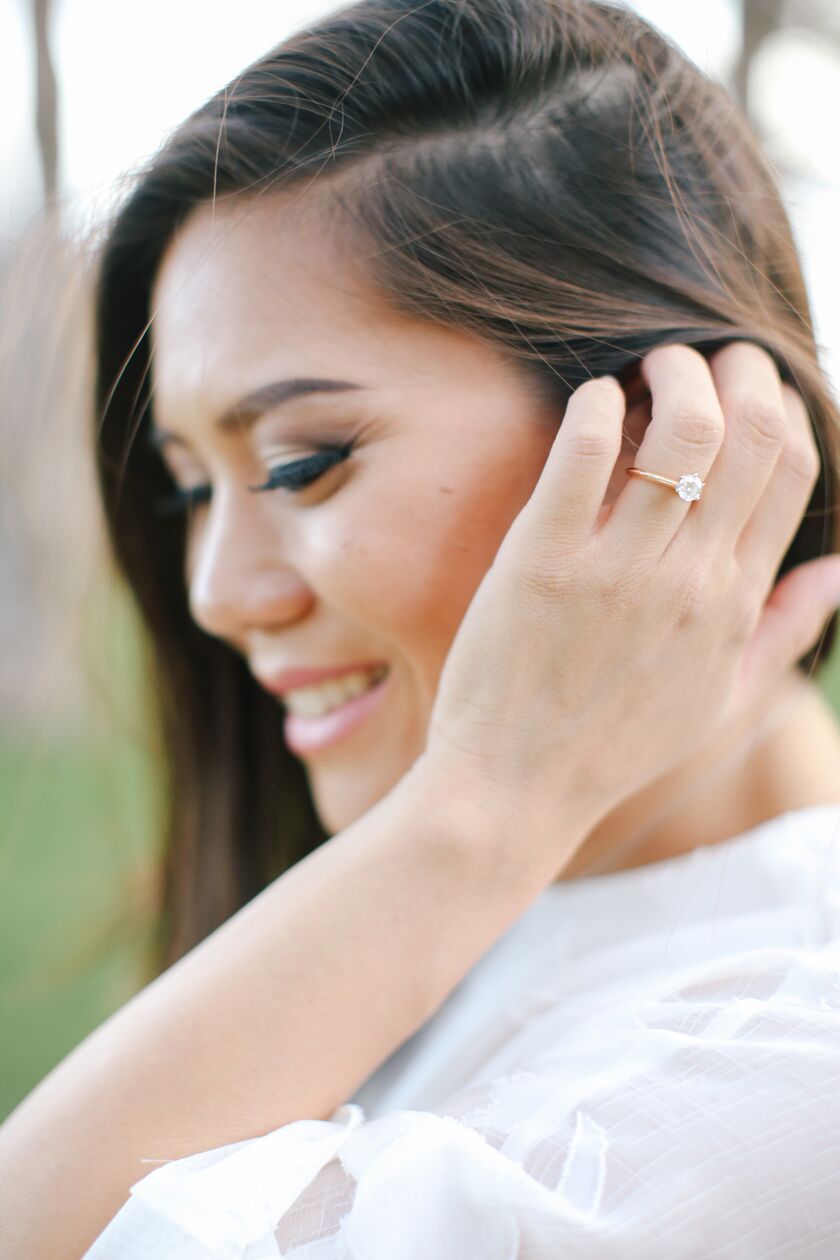 After traveling the world, well okay I mean Japan, Hawaii, Oklahoma, Colorado, Utah, and California -- I found that there was no one else I would rather spend my life with than Julia. Through the roughest interrogations to falling asleep cuddling on the couch, everything just came easy and natural. Everyday I wake up wondering where did this girl come from and how did I find her. I feel so blessed to be loved and to love her all in the same breath. Since the day that we met, there has been only one week when I haven't seen or touched her and that week was unbearable. That is why on Christmas Eve, I thought the greatest present I could receive would be one word, "Yes."
The Wedding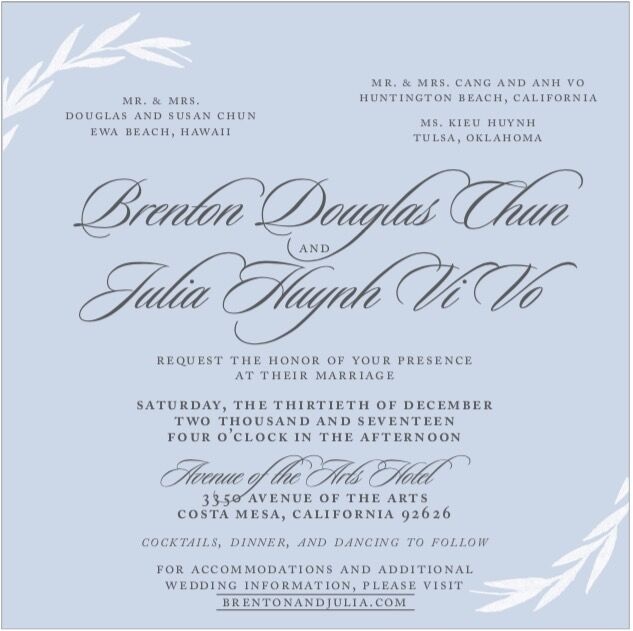 Saturday, December 30, 2017
4:00 PM
Ceremony and Reception
Avenue of the Arts, Costa Mesa, CA, United States
3350 Avenue of the Arts, Costa Mesa, CA, United States
4:00PM Ceremony
5:00PM Cocktail Hour
6:00PM Reception
Family Style Dinner:
Prawn & Roasted Chicken Salad
Fish & Crab Soup
Boneless Chicken & Shrimp Stuffing
Furiwa House Special Maine Lobster
French Beef Tenderloin
Basil and Chili Fish Fillet
Lotus Leaf Fried Rice
Whipped Taro Glazed Dates and Gingko
*vegan meal available for special dietary needs.
Wedding Party
Jan Ikeda - Matron of Honor
I met the beautiful bride while working at Walgreens, we instantly connected and I knew we'd be the best of friends. She was very down to earth, adventurous, spontaneous and she had a lust for life. I introduced my new found friend to the best man which he then thought he wanted to play Cupid and set her up with the groom. Getting the bride and groom to meet was difficult, timing wasn't always there. Luckily they finally got to meet at a get together we were hosting, here the groom had to put on his Brenton charm to impress her. Since then they've been inseparable, creating memories and starting a new chapter together.
Juliet Nhu Vo - Bridesmaid
Hello! I'm the bride's favorite little sister:)
Vi is my older sister and even though we are 16 years apart, she always made it a point to go on sister dates with me and never got annoyed when I would constantly bug her. My entire life she has been there for me and helped me become the person I am today. She even named me for crying out loud. She has taught me so much including what it means to be independent and I've gotten to see her grow into the strong, confidant, determined woman she is today. I can't wait for this next chapter in her life and I'm so happy I get to be here to watch it happen.
Betty Tran - Bridesmaid
Friendship is born at that moment when one person says to another, "What! You too? I thought I was the only one."- C.S. Lewis
Betty and Julia met when their mutual friend introduced them in Las Vegas. Two girls from the Midwest, the same age, graduated from pharmacy school the same year, and both working for the same company. It was no surprise the two immediately clicked. What Betty admires about Julia is her bubbly personality and generous heart, qualities that are sure to always bring good times.
Linda Vo Anthony - Bridesmaid
Well, I win, I've known Julia (aka Vi to me) the longest since I'm her eldest cousin. We grew up together in Oklahoma. She's like a little sister to me and I'm honored to be a part of her special and magical day when she starts the next chapter in her life as Mrs. Brenton Chun. I'm blessed to have you in my life not only as a cousin but also as a friend.
PS I'm so happy you can drink now lol Luv you cuz!
Alexis Nguyen-Hang Anthony - Flower Girl
I'm 3 years old and the bride's cutest niece from Texas! I loveto play dress up, sing and go to the park.
Rolan Uyeda - Best Man
#foreverheterosexuallifemate #nohomo
As Las Vegas migrators (from Hawaii), we attended UNLV together. Evolving from classmates to best buds I became the brother he never had and now Julian's favorite uncle.
Christian Herrera - Groomsman
How I Met The Groom: A random game night

Best Memory: Running a Disney Half-Marathon we had to sprint a mile and a half because we wanted a picture with Darth Vader

Why We are Friends: We are both treasure hunters at heart. While we both enjoy the finer things in life, you can't forget the fun chase and amazing journey to the prize at the end.
Kellen Murakami - Groomsman
I like long walks on the beach and.... oh wait..... that bio is for something else
I've known the groom since we were both in diapers (we're cousins)
Bryan Sato - Groomsman
In 5, 4, 3, 2, 1 and action ....
I've known Brenton since we were running around with toy guns in our underwear playing GI JOE COMMANDO & Teenage mutant ninja turtles in my backyard in Hawaii. Since Brenton, Kellen, and I are all cousins; I have to say that I'm Brenton's favorite and the good looking one out of the whole group *wink*
Brenton and I had kids sleepover parties at each other houses, went to each other's proms, clubbing back in our days and danced to NYSNC. Lol. Best of all, we both love going to San Diego Comic Con and have been doing it since 2008. Although we live in different cities, I'm grateful we are bonded by family. He is not only my cousin, but a brother to me.
Julian Brenton Chun - Ring Bearer
Born 5/16/17 who sprung from the bride and groom's love, will further unite the two in matrimony when he joyfully presents his parents' rings to them on their wedding day at seven and a half months old.